Custom HTML/CSS/JAVASCRIPT
You can have a great product but get fixated on the market and customers you already know. The business may be steady but sometimes you need to aim for the next level. When scaling, you need to consider exactly who to target, be customer-centric and learn how to market to them.
On Wednesday this week at 10am I was 177,000th in a final release queue to get tickets to this year's Australian GP. Anyone that knows me, knows my love and devotion to F1, but I was completely caught out by the surge in demand that I had to resort to this final release. In years gone by, I used to walk over to the track on a Saturday and buy a ticket from the booths. 5 years ago, it was around $66 a ticket (adjusted for inflation) for Saturday general admission.
It's been largely credited that Netflix's Drive to Survive is a big reason for this increase in the fan base. But this was only a product of good management and business decisions focusing on customer centricity that took F1 to the next gear. So how did this happen? For this to be answered, you need to know where F1 was coming from.
F1 was purchased by Liberty Media in 2017, the previous owner and CEO Bernie Ecclestone believed that F1 should be held in an exclusive and prestigious light, geared towards the existing and aging fans and not on platforms like social media. He literally said, "I'd rather get to the 70-year-old guy who's got plenty of cash". Any media at Formula 1 events was strictly controlled by Formula 1. Even the drivers had restrictions on what they could post on social media. Photos, filming and sharing media was limited to Formula 1 and the broadcasters. Bernie was so anxious to create exclusivity and get huge TV deals for the sport that he wanted control over exactly how F1 was presented, so it was a breath of fresh air when things changed.
Custom HTML/CSS/JAVASCRIPT
2016 Formula 1 World Champion, Nico Rosberg at 2017 pre-season testing
Liberty came in and freed Formula 1, the teams and the drivers and allowed them to capitalise on what the sport is, entertainment. F1 became customer obsessed and got heavily into the data on what type of fans there are and what they wanted from F1. They then shifted how they presented Formula 1, gave it a re-brand and started exploring the channels and formats to bring F1 to younger audiences.
Formula 1 partnered with AWS and got heavy on data and analytics. They made technical showcases on the cars and operations. The drivers had free roam to post behind the scenes and about causes that are important to them. They created a podcast to bring intimate interviews of drivers past, and present as well as team leaders. Fans could watch race highlights, compilations and fun content on YouTube and even follow the live data and analytics in the new F1 app during a race. The list goes on. Whether you're into the technical side, the racing, the drivers or the drama, the customer could consume F1 however they wanted. The result; F1 became the fastest growing sport in the world on social media as the consumption of this content grew the audience and it was all because of being customer-centric.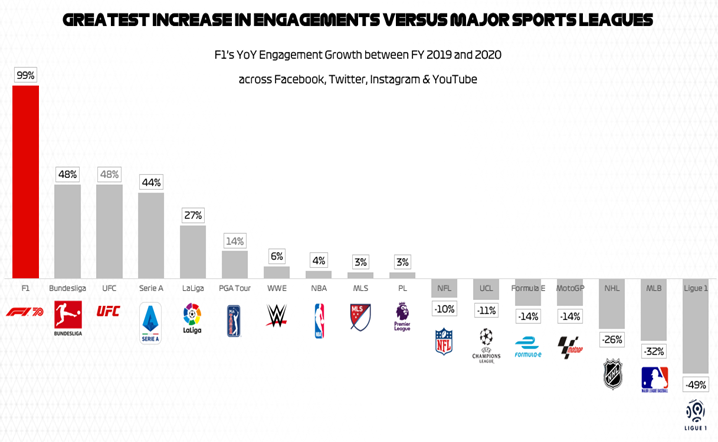 Year on year growth of engagement of major sporting leagues for 2019 & 2020
So now the awareness of F1 has grown, and F1 takes a leap of faith in 2019 by providing Netflix unrestricted access and editorial rights to create the Drive to Survive series. Viewers eat it up and now understand that there is more to F1 than just racing. This is the final piece of the puzzle, and F1 goes mainstream.
In 2017, the Australian GP had a weekend crowd attendance of 296,000 (it had been around this number for 10 years) when I was able to purchase that ticket at $66. Last year in 2022, the crowd attendance grew to 419,000 and the price of a ticket for general admission on a Saturday is now $120. Supply and demand equilibrium in full swing.
Formula 1 has always been elite in its logistics and operations but it wasn't customer-centric. Now, F1 has never been so healthy. When Liberty purchased it 6 years ago, F1's market cap was $8 billion, it's now $16 billion. All it took was a change in management to take a customer-centric approach and give the people what they want and the business successfully scaled.
Written by Chris Gordon, Scaling Consultant